Why Gateshead?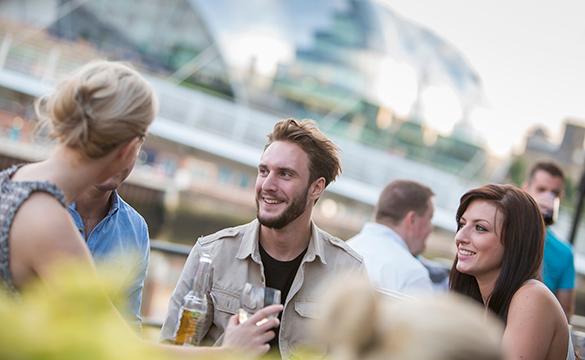 Gateshead is a place of ambition, aspiration and an area that strives for continued growth. With its diverse and growing business base, as well as a supportive environment, it provides the perfect setting from which to establish and grow a business.
World-class premises
Choose from some of the most modern, flexible and affordable business and industrial space on the market, including Team Valley (established in 1937 as the UK's first industrial estate, the area is now home to 700 businesses and over 25000 employees), and Baltic Quarter; which offers one of the most attractive location packages in the UK right next to the NewcastleGateshead Quayside.
Cost-effective
Gateshead is one of the most cost-effective regions in the UK, with very competitive wages and lower than average operating costs, ensuring value for money and a high return on investment.
Well-connected
Gateshead has an international airport and ferry and cruise terminals on the doorstep. It also benefits from fantastic road links throughout the area and beyond. High-quality public transport includes the Tyne and Wear Metro, which links directly to the East Coast main rail line and to Newcastle International Airport - which offers up to 15 scheduled flights to London each day, as well as many other European and global destinations.
Home to an enterprise zone at Follingsby Park
Gateshead's Enterprise Zone represents a unique opportunity for business expansion and relocation. With an economy worth over £14.8 billion (GVA), a population of over 200,000 and a regional workforce of 1.5 million it's easy to see how. It has excellent access to the strategic road network, with direct access to the A194(M) which connects the A19 and A1(M). It benefits from a package of incentives to stimulate investment, attract businesses and create new jobs. Businesses locating on the site will enjoy reduced business rates worth up to £275,000.
Productive people
The loyalty, productivity, commitment and work ethic of Gateshead's workforce is one of the area's most valuable assets. Our people are not just highly skilled, they are also extremely adaptable, friendly and hard-working.
Skills and training provision
The four local universities of Newcastle, Northumbria, Sunderland and Durham provide world-class higher education to around 85,000 students. Once graduated, around two-thirds stay in the area, giving companies access to fresh talent, year after year.